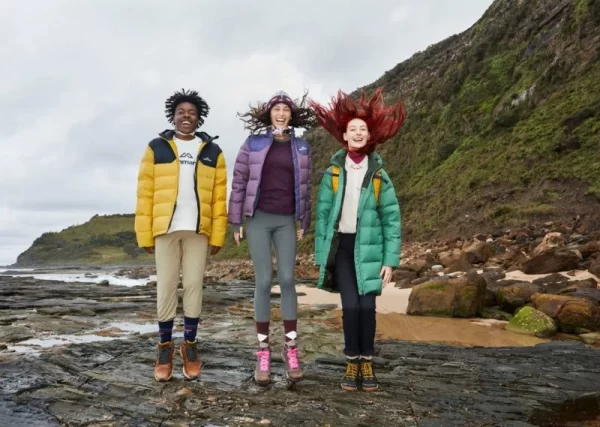 The 6 most sustainable puffer jackets
Beat the weather with these cosy, conscious puffers 
By Megan Prowd
The winter chill (not to mention relentless rain) has us reaching for the warmest things we can get our icy-cold hands on, and we're thanking the fashion gods for the current sportswear trend that means we can now (fashionably) rely on our (sustainable) puffers to keep us warm! 
What makes a puffer sustainable?
Puffers, warm as they may be, can be one of the worst environmental offenders hanging in your wardrobe, largely because most are made from either nylon or polyester – both commonly used synthetic materials that are often derived from fossil fuels and petrochemicals. Adding to the eco woes of the humble puffer, is the warm interior padding, which is usually made from either polyester or animal down. If it is the latter, check the down has been ethically sourced – (stories of live-plucked goose and duck down are horrific and plentiful). 
There are a few certifications that will help you to check that any down-filled clothing is ethical and sustainable, like the Responsible Down Standard, which many brands rely on and can help consumers trace the origin of the down in their favourite puffer. And in the interests of circular fashion, always consider buying pre-owned as a way to reduce consumption and save a potentially hazardous item from going to landfill. With that in mind these six of the most sustainable puffer jackets to last many seasons.
Upping their already-solid sustainability cred, outdoor adventure brand Kathmandu has surpassed the other contenders on the market, with the recent release of their BioDown Biodegradable Puffer. The certified B Corp brand is heading towards becoming a zero-net waste, circular company, with an impressively ambitious target for 2025. The BioDown puffer is made with virgin nylon, but the brand claim their material is superior to recycled nylon because of the technology, which transforms the material into organic matter (as opposed to microplastic).
The result is a product that is completely biodegradable – from the material to the thread and even the zippers, and best of all, it breaks down within three to five years, once it's disposed of in the right conditions in landfill. Kathmandu also adheres to the Responsible Down Standard, and uses only responsibly sourced and traceable down in their outerwear. 
Best for: zero waste 
As far as recycled, sustainable fashion goes, it's hard to go past Patagonia, and this western-inspired puffer is top of our shopping list. Made from 100 per cent recycled materials – that means the nylon outer, polyester ripstop and even the duck and goose down – it is a completely recycled and traceable product. In line with Patagonia's responsible production methods, it's also Fair Trade Certified, and built to last. It would be hard to overstate just how much we love the ethos of Patagonia, they're on the front line of revolutionising the current fast-fashion model, with innovative schemes like their Worn Wear program and, our personal favourite – the infamous "Don't buy this jacket" Black Friday campaign, which actively discouraged customers to reduce (or at least rethink) their consumption of new goods.  
Best for: long lasting 
US brand Everlane touts this knee-length, extra cosy padded puffer as a 100 per cent recycled product, with the noted exception of the zipper trims. That means the fabric and insulation are made entirely from recycled materials. Add to this the elimination of almost all virgin plastics from the Everlane supply chain, and the company's policy of not using animal-derived down as they work to become a more ethical and sustainable brand, and this becomes a seriously attractive eco-friendly option. 
Best for: warmth and long length 
Copenhagen born and bred; this cool-girl label is making inroads in the responsible fashion space. With an increasing number of sustainable and recycled materials in their collections, Ganni takes a transparent approach to their production methods and has set greenhouse gas reduction targets for 2023. With a recycled polyester outer, this stylish, lightweight padded puffer is the perfect year-round wardrobe addition and is equally well suited to a school run or a night out. 
Best for: dressing up  
Part of the brand's sustainable collection, and perfect for braving the elements, this North Face faux-fur collared puffer is serious all-weather outerwear, that looks good enough to wear in the city or in the mountains. One of the leading sustainable retailers in the outerwear space, the brand uses only Responsible Down Standard, traceable goose down, and the lightweight outer is made of 100 per cent recycled plain weave polyester. 
Best for: extra cold days 
If other options are scarce, a puffer made from recycled materials (like recycled PET) is a decent option, and Nimble Activewear offers a handful of conscious options, like this reversible sherpa lined puffer. Constructed from nylon on the exterior, the puffer is filled with recycled polyfill, made from recycled water bottles, while the cosy inner fleece lining is made from 100 per cent recycled polyester. 
Best for: cold weather activewear
RELATED: Falling in love with sustainable knits