Your new favourite do-good denim
How these brands are reinventing our favourite wardrobe staple
How many pairs of jeans do you own? Probably lots, right? They're the trusty wardrobe essential we wear year-round, and nothing is easier than throwing on your favourite mum jeans with a crisp white t-shirt. On the surface, they tick all our #30wear boxes but sadly (and annoyingly) they're also one of the worst offenders when it comes to unethical labour practices, toxic synthetic dyes and chemical washes. Then throw in the fact it can take up to 1500 litres of water to produce a single pair, and it's easy to see how our most worn wardrobe item can be devastating on the environment. Fortunately, there are some very cool and innovative denim brands paving the way for a sustainable future by reimagining their impact and ensuring their designs are both people and planet friendly. Here are our top picks of ethical and sustainable denim.
Outland Denim
When Meghan Markle wore a pair of their Harriet jeans it sent the internet into meltdown, and now that Leonardo Dicaprio is a fan, we're giving them bonafide Hollywood eco certification. Not only does Outland put into practice sustainable manufacturing – think organic washes and recyclable packing – it's also an ethical employer, assisting and training women in Cambodia, many of whom have fallen victim to human trafficking. It's completely transparent about its design process to supply chain making it a great choice for your next denim purchase.
Denimsmith 
Born in 2015, Melbourne-based Denimsmith is committed to ethical production with their designs crafted by local artisans in its Brunswick East factory. Credited by Ethical Clothing Australia, we love its collection of staples like mum jeans and cropped leg styles and flares. It also ups the ante with its colourful pieces. Plus it sells mens styles as well as weekend essentials like denim jackets and t-shirts.
Nobody
It was born in the backstreets of Melbourne but Nobody's appeal has reached far beyond its hometown and is now a favourite among celebrities and bloggers across the globe. Accredited by Ethical Clothing Australia, its denim skirts are also cult favourites, so too its jackets and shirts. And did we mention their designs are comfy to boot?!
Bassike 
It's worth noting that Bassike denim isn't cheap, but it does go to the distance if you want to invest in a long-lasting pair that won't go out of style. Jeans are handmade in Japan using third-generation denim makers, and are dyed using natural indigo (any excess is reused as a natural compost). Bassike also offset its shipping carbon footprint by partnering with Greenfleet and investing in a forest regeneration program. Definitely jeans with the planet at heart. 
Mud Jeans 
Circular design is the business model for Mud denim. They recycle your old jeans to make a new denim yarn to turn them into, yep, you guessed it. New Mud jeans use around 1554 litres of water to make, while conventional brands use up to 7000 litres. Its CO2 emissions are also less than half other brands and it uses laser and ozone to wash its jeans instead of chemical treatment. Mud's end goal is to use no chemicals whatsoever in production. And if you don't want to buy you can also lease a pair of jeans for 7.50 Euros a month! How cool is that?
Kings of Indigo
K.O.I prides itself on the triple R philosophy of Recycle, Repair and Reuse. They've tasked themselves with creating the highest quality pieces that are built to last and 90 per cent of each product is made from sustainable material (with the hope to hit the 100 per cent mark within the next three years).  A member of Fair Wear Foundation, you can view a list of suppliers on its website, they recycle 50 per cent of water used and 40 per cent of energy is generated from solar. Like Mud, they also use ozone and laser to create specific wash details.
Levi's
This may come as a surprise for a global corporation but Levi's rates high on the ethical scale thanks to its transparency around working conditions and supply chain. It uses Better Cotton Initiative-certified cotton and plans to reduce its carbon emissions by 25 per cent and phase out the use of harmful chemicals in its production process by 2020 – as well as publicly report on its progress. Pulling on those mum jeans never looked to good!
Everlane 
There have been mixed messages around Everlane's sustainability promises meaning it has die-hard fans and sceptics in equal measure. But, its denim does appear to be making an impact with its partner factories which recycle 98 per cent of water using reverse osmosis. It also keeps bi-products out of the environment by mixing them with cement to make bricks for affordable housing. We love the everyday appeal of its basics offering.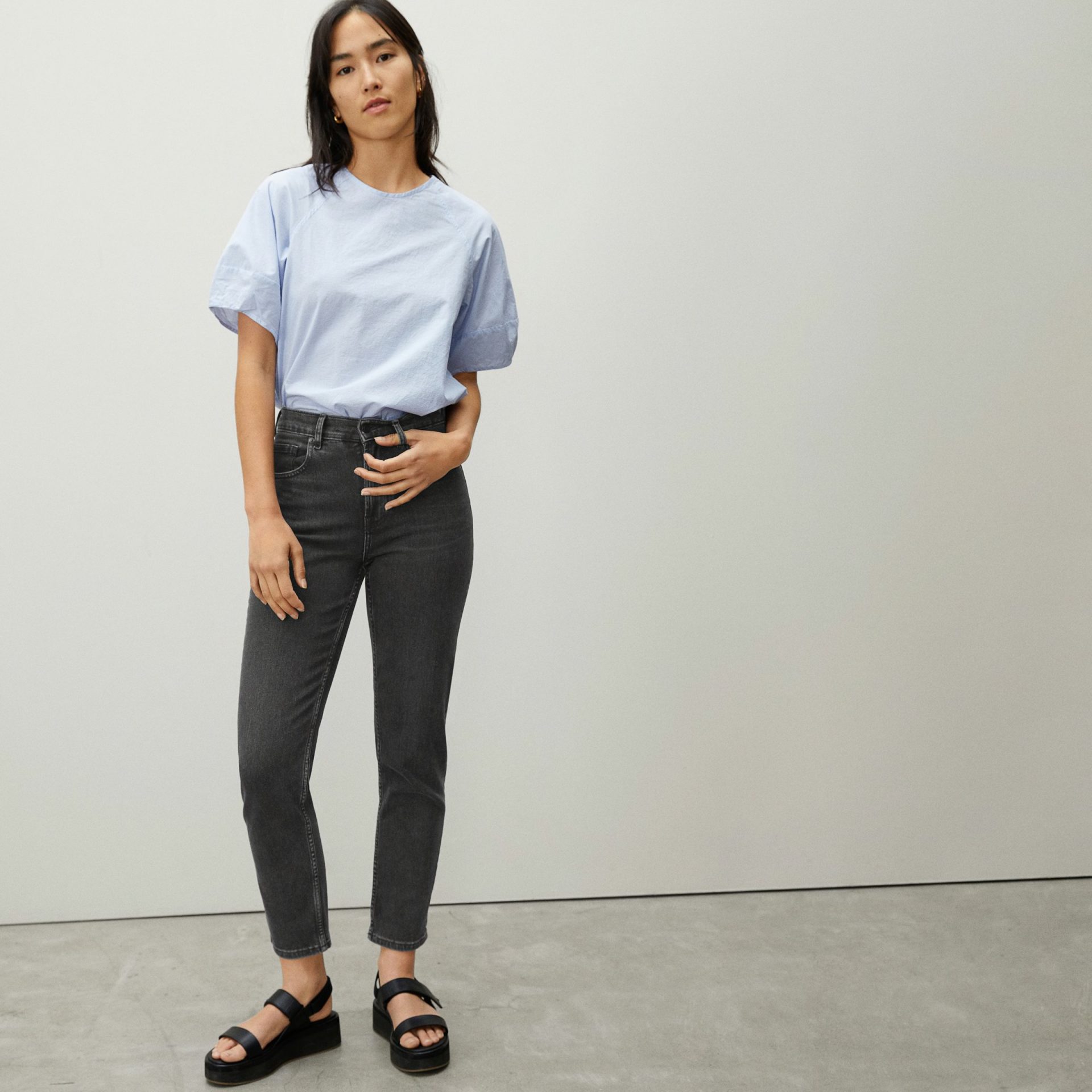 Nudie Jeans Co.
Made from non-toxic, 100 per cent organic cotton, you can shop one-of-a-kind denim via their Re-use program or get your favourite pair fixed free when that tiny rip becomes NSFW. Nudie jeans is definitely a frontrunner in sustainable denim manufacturing, they really do go the distance, and sales time is the perfect time to get your hands on a pair.  They also make jeans for kids as well as cool jackets, tees, accessories, even socks and jocks!